My Experience at the IGNITE! Damsels In Success conference, November 2013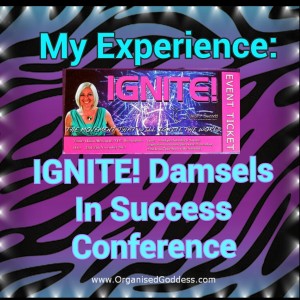 I had a fantastic weekend at the IGNITE! Damsels in Success conference the weekend before last (23 & 24 November), so I thought I'd share a little of it with you.
I'm still typing up my notes that I took from the weekend, as I know otherwise I'll go back to review them and wonder what on earth I wrote (my handwriting wasn't exactly the neatest as I scribbled down notes).
Anyway, I digress.
Firstly, I should explain what the event was all about, and to do that, I'll let Lucie explain:
"…If you're a heart-centred female entrepreneur who believes in investing in YOU and that personal growth & business growth go hand in hand…

And you consider yourself a Leader who wants to be part of a legacy that pioneers the way women live & work.

Then imagine spending 2 intimate days with the most incredible women – the 'who's who' of the Women's Personal Growth industry – learning, laughing, growing together. It's a truly transformational weekend where you'll also discover how to…

–       Work less & do (lots) more

–       Adopt our 'Success with Ease' philosophy so you can have the time of your life AND have an amazing business.

–       Build a business that supports your lifestyle not fit your life around your business.

–       Find shortcuts to stand out from the crowd – raise your visibility, your credibility & your profitability

–       Re-invent your "self image" and be able to express more of it in the world through your purpose and identity.

–       Pinpoint your unique blend of gifts so you stand out in a crowded market place

–       Create an efficient and leveraged business model to bring you more business & more balance

–       Develop your personal brand so it's reflects your DNA, totally in-line with your purpose & values

–       Heal visibility issues so that you're excited to come out of hiding and shine your light in the world

–       Re-invent the way you (& all women) live & work in the future

And much, much more…"
(that's just a small part from the sales page)
Something (well, a lot of things!) about the sales page spoke to me.  You know when you've read sales pages before and you get bored about 2 minutes and it's all about "I made millions in 5 seconds, and look at my flashy car…" – that doesn't work for me.
But I felt inspired and excited, and there was an early bird special offer, so I went for it!  I hadn't done any personal development for ages, so thought it was high time I did something.
So that weekend I drove from Bristol to Birmingham so that I could be a part of this IGNITE! event.
As I said, it had been a long time since I had done anything like this, and I was there by myself.  So I went off to the registration desk, and saw all these people that were happy to see each other and greeting each other enthusiastically.  It only took a moment or 2 before I was also included in this, and a big thank you to Niki, Ruth & Natasha for grabbing me and chatting to me at the very beginning to make me feel even more welcome.  I don't think I've ever been hugged so much over the weekend, and it was great!
The whole atmosphere was one of supportiveness, enthusiasm, camaraderie, trust, and empowerment.  I actually felt safe to share my ideas about this website, and receive positive feedback.  I'd read an article a few days beforehand that once again emphasised the importance of having the 'right' people around you, which is something that I've realised is lacking at the moment.  I have great friends, don't get me wrong, but the vast majority (if not all of them) are of the mindset that you get a job, have a family, retire, the end.  None of them are particularly entrepreneurial, preferring the 'safe' option of having a job and working for someone else (I say this; I am still in that 'safe' place too, but I am looking for my way out, and would love some support along the way).
So I felt like I was in the right place with the right people.
If you've read this far, then I would assume that you'd like to hear about the content of the event?  Let's get to it!
On Day One we heard from:

–       Lucie Bradbury, Damsels In Success Founder

–       Abi Griffiths – Lesson In Authenticity

–       Michelle Clarke, Damsels In Success Director, Cardiff

–       Natalee Tucker, Damsels In Success Director, Bexleyheath 

–       Loral Langemeier, Wealth Diva, Millionaire Maker Mastermind (and also featured in The Secret)

–       Julie Foster, Damsels In Success Director, Stevenage

–       Lucie (again!)

–       Katharine Dever – Get Your Gift Out Globally & Change the World! 

–       Then a Q&A panel with some of the speakers
Part of the event was to promote Damsels In Success, which is a UK-based community that has several groups that meet once a month (www.DamselsInSuccess.co.uk for more information).
On the evening of Day One, we were invited to a networking event with a difference, so instead of a business-card-swapping fest (boring!), we were joined by Rock Choir (www.RockChoir.com) and we had a great evening of singing with a little bit of dancing thrown in!  I then went off to bed as I had a headache, but judging by the photos, a lot of friendly feminine networking went on (you know, where people chat as people, not just shouting & waving business cards around).
Day Two arrived swiftly, and we got to hear from:

–       Bernadette Doyle,  The step by step plan to a business & life you love.

–       Lucie (as she was MCing the event as well as sharing valuable tips throughout the days)

–       Lulu Mungur, Damsels In Success Director, Salisbury 

–       Diana Barden, Damsels In Success Director, Cambridge

–       Dan Bradbury – How to grow your business by 504% in the next 90 days


–       Carolyn, a Damsels In Success meeting attendee that applied to tell her story at this event (we were offered the option to apply for 2 speaking slots at the event).

–       Ruth, a Damsels In Success meeting attendee that applied to tell her story at this event

–       Lucie again, this time talking about visibility

–       Daf Schofield, Damsels In Success Director, Cowbridge 

–       Laura Doyle – Surrendered Wife, Cherished For Life

Then the day ended, and after chatting for a while we all started to drift away, ready to journey home.
Photos of the event are on the Damsels In Success Facebook page (& I managed not to be in any of them!)
I did a lot of thinking in the car on the way home, about how much I had enjoyed the weekend, how much it made a difference to be around those that understand your dreams & support you in them, & how nice it had been to be welcomed.  It really was a excellent weekend for so many reasons, not just the content delivered by the excellent speakers.
Suffice to say, I shall be going again next year!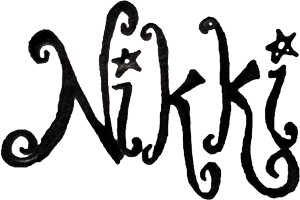 If you've enjoyed this post, I'd be grateful if you'd share it with your friends or anyone else that you feel it could help.
Also, have you signed up to get your FREE Wheel of Life Workbook? I show you how to analyse 8 areas of your life to see which ones you want to start organising & improving!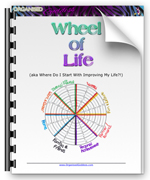 Filed under: Mindset Shifting • Personal • Reviews
Like this post? Subscribe to my RSS feed and get loads more!