Decluttering Like An Organised Goddess ecourse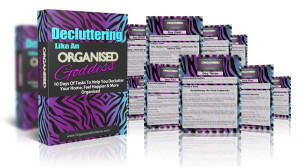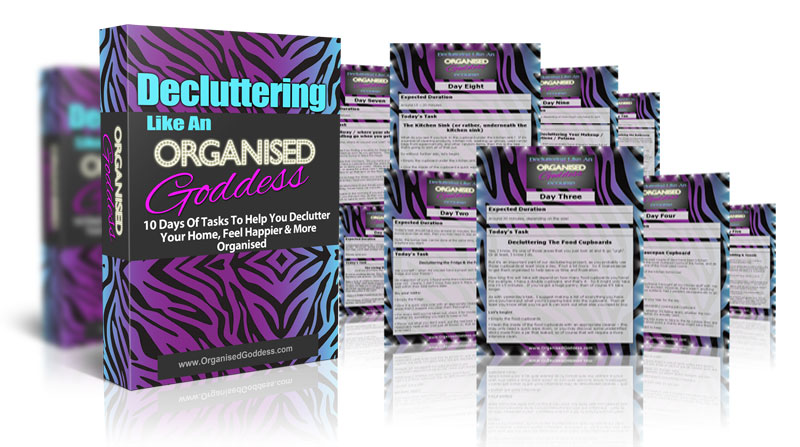 Do you want a decluttered, calm and peaceful home, but don't have the time or energy to tackle that task?
Do you turn down the opportunity to have friends over because you don't want them seeing the state your house is in?
Do you waste time every morning looking for things that aren't where they should be?
Do you get home from work, look at the mess and think "oh, I can't face dealing with that now – where do I even start"?
Do you find mouldy / out of date food hiding at the back of your fridge or cupboards?
Is your bathroom full of mostly-empty bottles and random products you haven't used?
You could pay someone to come in and declutter for you, but do you want a stranger going through your things, needing your supervision, and costing a fortune?
What would that cost per hour?  Per day?
I have an alternative.
How about a series of tasks, delivered to you every day by email for 10 days?
What if each task was only 20 – 30 minutes in duration (maybe even less)?
After 10 days, you will have decluttered 10 areas of your home, but without it feeling like a chore or a hideously painful exercise.
How does that sound?
Introducing:

the

Decluttering Like An Organised Goddess

ecourse.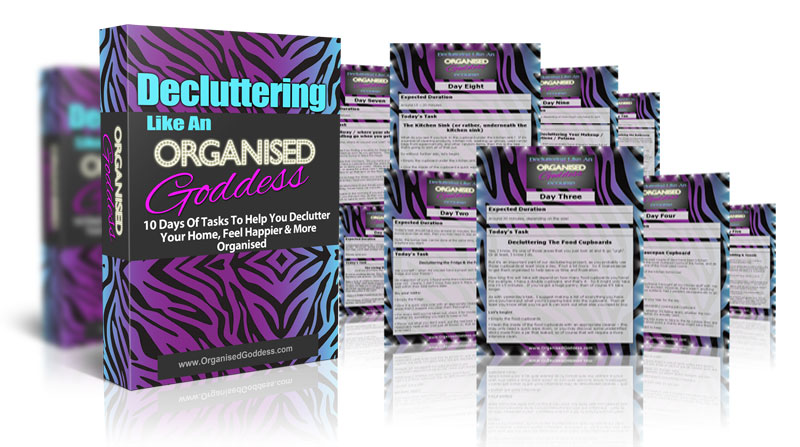 10 days of tasks to help you declutter with ease & take the stress out of it.
Each day, you'll get an email directing you to a specific page for that day's task, including a PDF download with simple instructions on how to complete the task for that day.  As it's a PDF, you can print it & take it home, or download it on your phone to read.  Whatever works more easily for you!
Each task should take between 20 – 30 minutes each day, and in most cases I've added in a bonus task to enhance the decluttering – but only if you want to!
I appreciate how busy you are, and that's why I've created this ecourse & the tasks within it to be as quick & painless as I can make it – no-one wants to spend hours decluttering and tidying, but 20 – 30 minutes a day for 10 days will make a huge difference.
So, to recap:
You get 1 task a day emailed to you every day for 10 days as a downloadable PDF file so you can save it / print it / download it to your reading viewer of choice.
These are short, focused tasks that should only take you between 15 – 30 minutes
By following the tasks each day, you will easily declutter your home, and by the end of the 10 days you should be noticing a real difference.
This in turn will help you to live a happier, more organised life!

(see my tagline in my header?  Yes, that's what I'm all about!).
Your investment in this ecourse is normally $49,
but it's on offer at
$29

at the moment!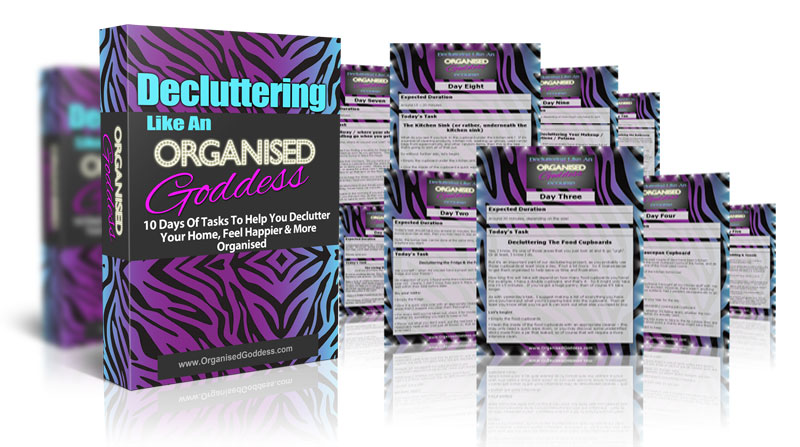 ______________
 Simply click on the

Buy Now

button,
and PayPal will do the rest!
(& will even convert this into your preferred currency!)
Please note: you will need to confirm your email address once you have purchased this – you'll receive an email from Organised Goddess with a subject of:

You MUST confirm your email address to receive your purchase.
As a reminder, this is an ecourse, so you will receive one email once you've purchased, and then for the 10 days after that, you'll get a task a day emailed to you, including the password and the link you'll need to get the content for that day.
………………………………..
Also, as this is a digital product, and it's taken me a lot of my time to create it, there are no refunds.  I want to be as transparent as possible, and this way I can also keep the prices significantly lower than they could be.