Organising Your Goddess Wardrobe ecourse
Does your wardrobe make you feel like a
goddess

?

Do you love getting dressed in the morning?  Or is clothing one of those things that you think "if I could actually find anything to wear, and if I had the time, I'd make more effort"?

Ask yourself these questions:
Do you find yourself wearing the same clothes all the time?
Can you find what you're looking for quickly & easily?
Do you have a Floordrobe instead of a wardrobe (where it all ends up on the floor)?
Do you have a wardrobe full of clothes but yet nothing to wear?
Is your wardrobe full of unworn purchases?
What about your underwear – does it fit properly?  Or do you keep finding knickers with the elastic fraying, tights that have gone all baggy, and socks with holes in them?
How about your shoes & boots – have you got pairs of unworn shoes, as you tend to stick to the old favourites?
Do you find yourself rifling through your wardrobe for ages trying to find a particular item of clothing?
Hint: if you answered yes to 1 or more of these questions, then carry on reading – this will help you.
If your wardrobe isn't making you feel like a goddess, and you want that to change, then you've come to the right place.
Introducing:

the

Organising Your Goddess Wardrobe

ecourse.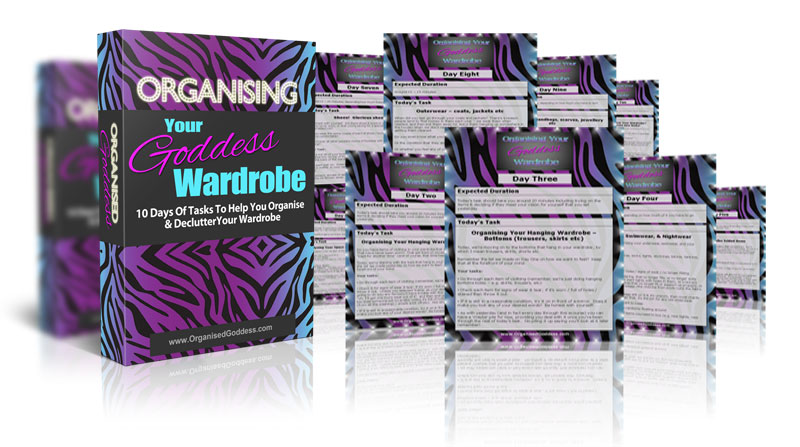 10 days of tasks to help you

Organise Your Goddess Wardrobe

with ease & take the stress out of it.
Each day, you'll get an email directing you to a specific page for that day's task, including a PDF download with simple instructions on how to complete the task for that day. As it's a PDF, you can print it & take it home, or download it on your phone or tablet to read. Whatever works more easily for you!
Each day deals with just one section of your wardrobe to keep it easy & simple – we don't do overwhelm here!
We'll cover which items of clothing to keep and which items to toss to help you to make the most of your current wardrobe
Plus the one mistake that people make when attempting to organise their wardrobes – without this, your results won't be nearly as effective!
I appreciate how busy you are, and that's why I've created this ecourse & the tasks within it to be as quick & painless as I can make it – no-one wants to spend hours sorting through, decluttering & organising their wardrobe!
Each task should only take you between 15 – 30 minutes each day, so by the end of the 10 days this will make a huge difference. It all adds up!
End your wardrobe frustrations and get your wardrobe organised once and for all with the
Organising Your Goddess Wardrobe

ecourse
Here's a recap of what you'll get:
10 days of easy-to-implement wardrobe-taming lessons in printable / downloadable PDF format that you can accomplish in 30 minutes or less!

Freedom from the feeling of "I have nothing to wear" or "I can't find anything I like in my wardrobe."

Satisfaction that comes from an organised and decluttered wardrobe.

Claim your time back in the mornings where you're no longer wasting time searching for something to wear

No more Floordrobe!  Everything will fit neatly into its allocated space (not on the floor!)

An organised wardrobe that makes you feel like a goddess!

By following the tasks each day, you will easily organise & declutter your wardrobe, and by the end of the 10 days you should be noticing a real difference.

And ultimately, this will help you to live a happier, more organised life!
(see my tagline in my header? Yes, that's what I'm all about!).
Your investment in this ecourse is normally $49,
but it's on offer at

$29

at the moment!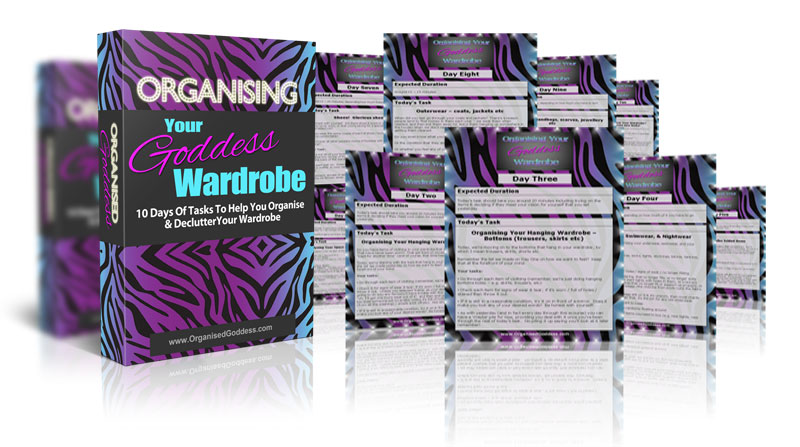 Simply click on the Buy Now button,
and PayPal will do the rest!
(& will even convert this into your preferred currency!)
Please note: you will need to confirm your email address once you have purchased this – you'll receive an email from Organised Goddess with a subject of:

You MUST confirm your email address to receive your purchase.
As a reminder, this is an ecourse, so you will receive one email once you've purchased, and then for the 10 days after that, you'll get a task a day emailed to you, including the password and the link you'll need to get the content for that day.
………………………………..
Also, as this is a digital product, and it's taken a lot of my time to create it, there are no refunds. I want to be as transparent as possible, and this way I can also keep the prices significantly lower than they could be.