Goal Setting like a SMART Goddess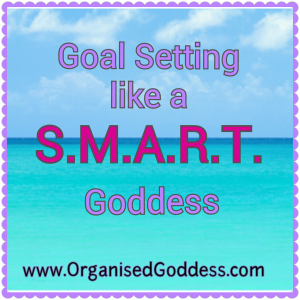 How good are you at goal setting?
Do you frequently achieve what you set out to do? Or are you usually left with a half-finished goal, and you forget what you set out to do, or can't be arsed bothered any more?  (my mum told me off for having 'arsed'!)
There's a reason why goals should have some structure to them if you want to achieve them.
After all, you wouldn't get in your car & decide to drive to somewhere you'd never been before without consulting a map (or an annoying sat nav that sends you off in the wrong direction).
So today, I have a free goal setting template for you.
Before we get to that, I want to explain the principle behind it.
Now, I did SMART goal setting when I was at university (as in, it was one of the techniques we were taught), and boy was it boring! So I've updated it and given it a fresh lease of life.
The principle behind it is that your goal needs to fit 5 criteria if it is going to be successful.
These are:
S = Specific
M = Measurable
A = Achievable
R = Relevant
T = Timescale
So, for example, a poor goal is "I want to save money". Well, that isn't a poor goal in itself, but it isn't a SMART goal.
Whereas "I want to save £500 over the next 6 months" is.
It's specific, it's measurable (you can see how far you've saved at any point), it's achievable as it breaks down to around £80 a month (whereas if it was £50000 that wouldn't be achievable – unless you've got loads of money coming in!), it's relevant (there's a reason you want to save that money – a holiday, perhaps?), and you've built in a timescale.
From that, you can schedule where you should be at the end of each month, and can plan where you'll make those savings each month to go into the saving pot.
Fancy a go at doing this yourself?
Download this free template and have a go – I've filled out the headings for you…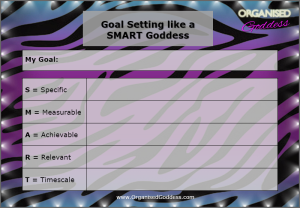 (Just right click & Save As…)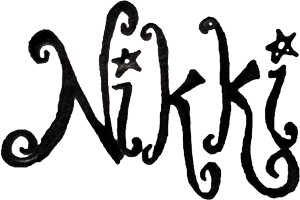 If you've enjoyed this post, I'd be grateful if you'd share it with your friends or anyone else that you feel it could help.
Also, have you signed up to get your FREE Wheel of Life Workbook? I show you how to analyse 8 areas of your life to see which ones you want to start organising & improving!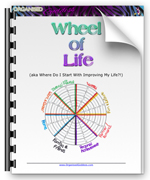 Filed under: Goal Setting
Like this post? Subscribe to my RSS feed and get loads more!